Services » Inground Liner Replacement

Kafko
Kafko's heavy-duty vinyl pool liners are specifically designed to withstand the harshest environments. Their 100% virgin vinyl is manufactured with bleach resistant inks and UV inhibitors to help guard against fading and sun damage and to ensure a long lasting, like-new appearance.
Kafko's premium liners also feature:
Wide array of style and custom-designed shapes
True-fit liners are manufactured under strict quality control procedures, for an exact fit
Available in 20 gauge and 30 gauge weights, or as 30/20 blend
Industry leading warranty
Cold Crack Temperature Protection to -40F
Algae inhibitors to help aid normal sanitizers
Fungicide protection
We are a Kafko Pro Builder
The Kafko™ Pro Builder Network is comprised of numerous Local Swimming Pool Professionals throughout the United States, Canada and the World who share three things in common:
An unwavering commitment to be the 'Best' at their trade
Are loyal promoters of Kafko™ Products that reflect their dedication to offering neighbors in the communities they service with the very best swimming pool construction products
A strong desire to share and borrow building ideas, concepts and best practices with and from their fellow Kafko™ Pro Builders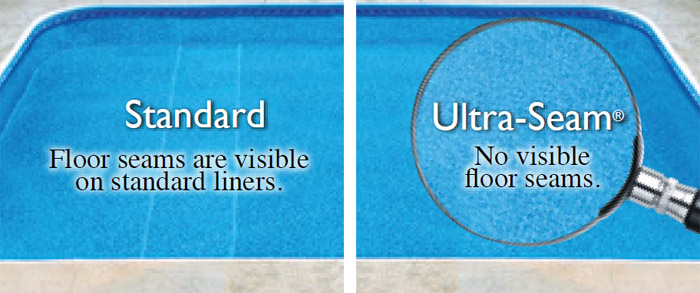 Exclusive Ultra-Seam
With standard vinyl pool liners, the seams on the pool floor are visible. Latham's exclusive Ultra-Seam ™ process makes floor seams stronger and virtually invisible. No more visible lines on the floor detracting from the beauty of the pool!
Sample Liner Options
Liner options subject to change. Some liners pictured may not be available.
VISIT WEBSITE